Astha Svayam Vyakta Kshetras, Part 10
BY: SUN STAFF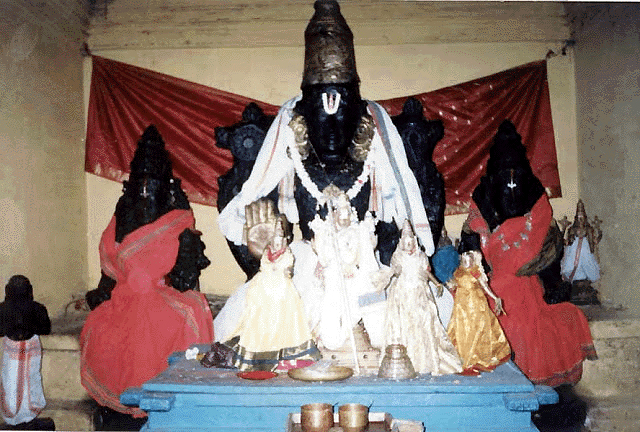 Neela Mega Perumal (Lord Sourirajan) at Thirukkannapuram
Jan 19, 2014 — CANADA (SUN) — The last in a serial presentation of svayambhu Lord Visnu's eight abodes.
Having now presented all eight of the svayam-vyakta kshetras, we conclude the series with a visit to the ninth temple associated with this rare grouping of purana desams. Thirukkannapuram, in Nannilam, Tamil Nadu is considered by Srivaisnavas to be the combined form of all the astha-svayam-vyakta kshetras.
There is an Ashtakshara Mantram from Lord Narayana which mentions all eight of the svayam-vyakta kshetras. Each kshetram signifies one aksharam of the mantra and the Lord states that liberation is granted to those who visit:
srirangam venkatadrischa srimushnam totaparvatam
salagramam pushkaramcha naranarayanashramam
naimisham cheti me sthananyasou mukthi pradhanivai
yetusvashtaksharaikaka: varnamurthir vasamyaham
tishtami krishna kshetre punya sapthakogatha:
ashtaksharasya mantrasya sarvakshara maya sada
At Tirukannapuram, one of the Alwars, Tirumangai Mannan, is said to have received the Ashtakshara Mantram in its entirety directly from the Lord. Therefore Tirukannapuram kshetram is understood to embody the Ashtakshara Mantram in its entirety.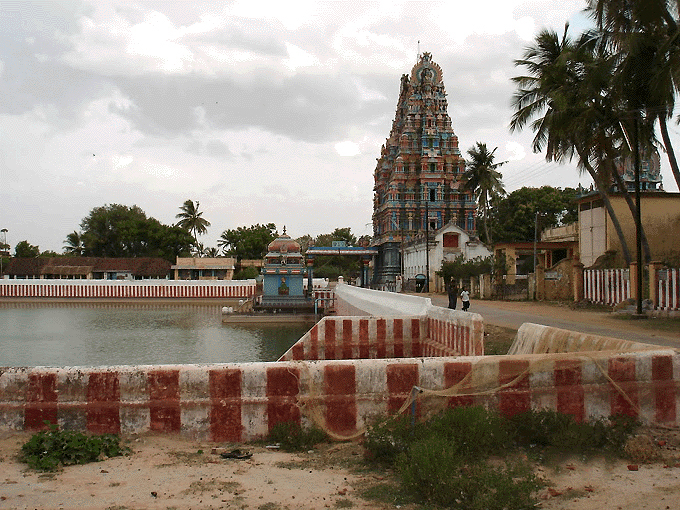 Thirukkannapuram - Nannilam, Tamil Nadu


[ Photo courtesy Balaji Jayarama @ Panaramio ]
This abode of Lord Vishnu is not only one of the 108 Divya Desams, but is also one of the 5 preeminent Krsna-kshetrams of Tamil Nadu (along with Thirukkannankudi, Thirukkannamangai, Thirukannankavithalam and Thirukovilur). It is also considered to be the eastern gateway to Srirangam.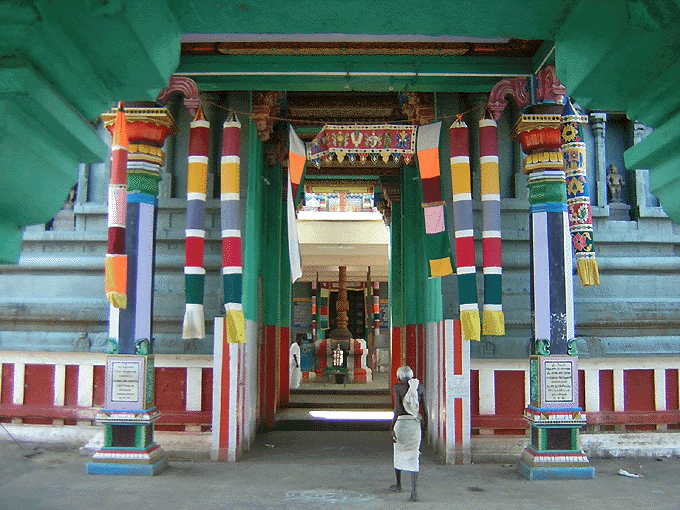 Thirukkannapuram Temple Entrance
Thirukkannapuram Temple, located in the Thanjavur district, is known by many different names: Sri Sowri Perumal Temple, Sri Neelamega Perumal Temple, Krishnarayana Kshetram, Panchakrishna Kshetram, Saptha Punniya Kshetram, Keezhai Veedu, and Sri Kannapura Nayaki. A long time ago, Thirukkannapuram Temple was very close to the seashore, but the sea has now drifted back about 10 kilometers at this place.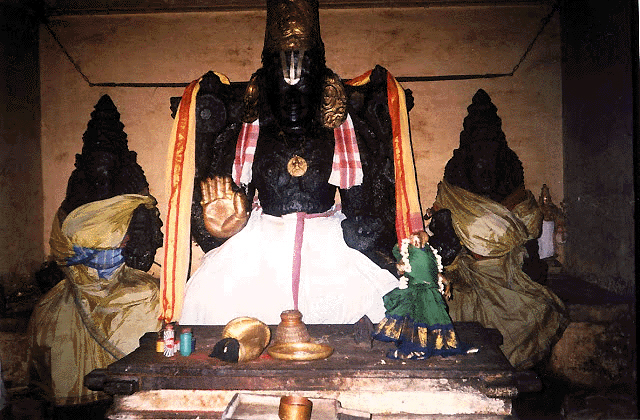 Neela Mega Perumal with Laksmi devi (Kannapura Naayaki)
[ Photo courtesy G. Manavaalan @ Picasa ]
The presiding Deity here is Neela Mega Perumal (Lord Narayan), Who is also known as Sourirajan, or Sowri rajan. He is in a standing posture, facing east. Instead of the usual abhaya hastham (mudra), he has varadha hastham, similar to Kanchi Varadharaja Perumal. He holds prayoga chakra, similar to that of Ranganatha Perumal at Srirangam. The Lord's consort here is Kannapura Naayaki (Laksmi devi) who is here along with Periya piraati (Bhudevi, Sridevi and Padmini (Padmavati) Nachiyar.
Neelamega's name, Sourirajan comes from a pastime in which a flower seller, Rangabhattar, was engaged in surreptitiously re-selling garlands that the king had already sent for offering to the Lord. Learning about this the king became angry, and paid a visit to the flower seller one day. Rangabhattar arranged one of the used garlands to give the king, but there was a hair in it. Begging forgiveness, Rangabhattar said the hair was from Neelamega Perumal himself. When the king took darshan of the Deity, being merciful to the flower seller, Neelamega showed His plaited hair to the king. From that day onward, Neelamega was also known as Saurirajan (one who has a plait).
Annual Processional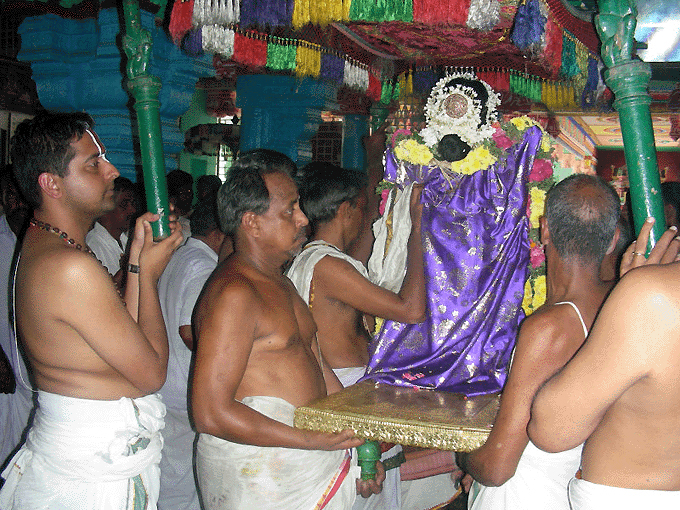 Sri Sowri Perumal on Processional
Another aspect that makes this a very special Form of the Lord is the fact that Neelamega is considered to be Narayana-Trimurti. On a particular festival day, the Deity is taken out on procession as one or another of His Trimurti forms – first giving darshan as Narayana/Visnu, then as Brahma, then as Shiva. On each processional round, the Deity accepts worship as the embodiment of the three divinities.
On the 7th day of Vaikasi Brahmotsavam (May-June), Sri Sowri Perumal gives a rare darshan to the devotees. First in His form of Emperuman, a procession departs at 5:00 p.m. during which the Lord gives darshan as Mahavishnu, who saves the entire world. At 10 p.m. that night a second procession goes out on a decorated flatbed chariot, and He gives darshan in the form of Lord Brahma. Early the next morning, during the brahma-muhurta hours, the Lord again goes on procession and gives darshan as Samhara-moorthi Rudran (Shiva), dressed in white.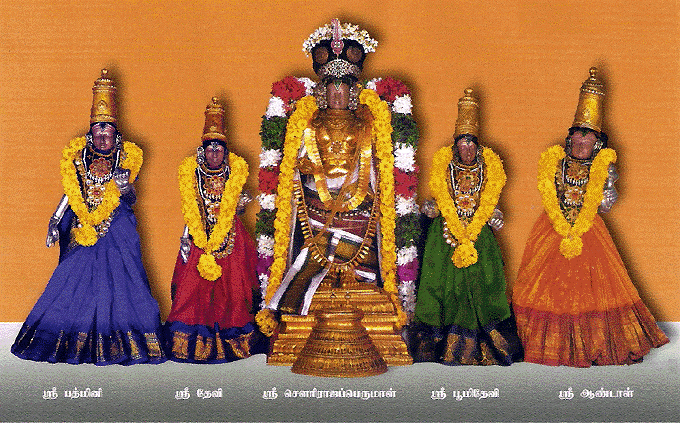 Utsavar deities
At the end of each procession, the Lord is brought to the outer mandap, where part of the Divya Prabandham is recited. After each arotik He returns to the temple. Prasadam distribution includes Sri Sowri Perumal's special pongal, which cannot be compared to any other pongal. Such special Trimurti darshan is said to only be given at this Thirukkannapuram Temple.
The Utsavar of this sthalam (the processional deity of the temple) is Sowriraja Perumal (Sowrirajan), who is in a pose of seeking hands for marriage. On every Masi Magam, the Lord goes on procession to the seashore and gives all his devotees darshan there. Sowriraja Perumal is also said to have a peculiar scar on His forehead.
Thirukkannapuram as Krishna-kshetram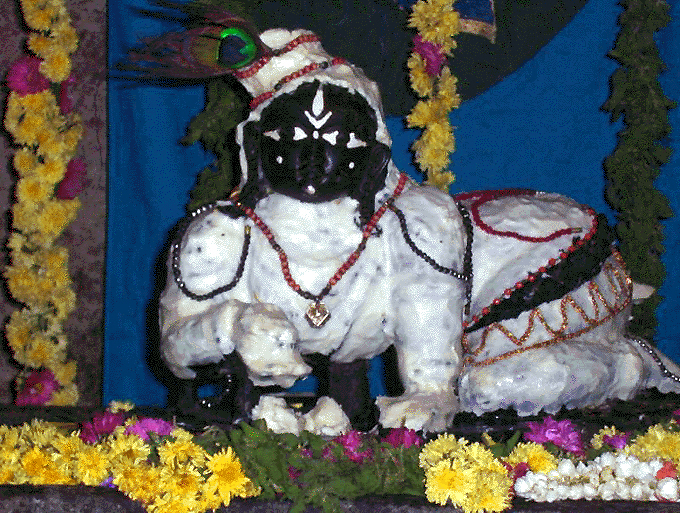 Sri Krsna covered in curd
In relationship to Thirukkannapuram Temple's presence as a Krishna-kshetram, we have the story of Periazvar, otherwise known as Vishnuchittha, who was a great devotee and foster-father to the great saint, Andal, who sang more than 100 verses on the Lord. He composed more than 400 verses on Sri Krsna, describing His pastimes from childhood till marriage. The Lord's pursuits, sung in Tamil, are exceptionally beautiful.
One verse, which is particularly delightful to consider in this month of Damodar, describes Krsna as sweetly smelling of milk, ghee, curd, sandal paste, lotus and camphor, His coral-like lips opening to show His tender milk-teeth, which have a silvery shine. His chest is adorned with an ornament called aimpadaitthaali, consisting of five miniature weapons which depict him as Lord Narayana. When this blue-hued beauty laughs, His saliva falls onto His aimpadaitthaali, thus disguising Him as a sweet little baby.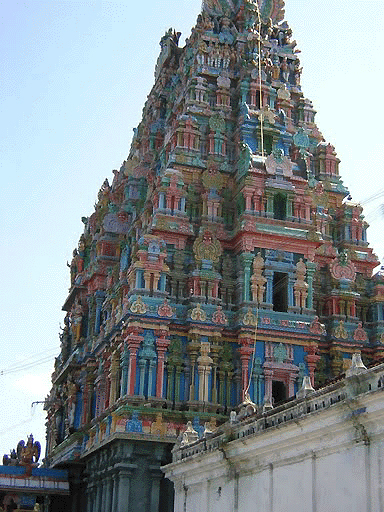 Utpalaavataka Vimanam

The Sun News Editorials Features Sun Blogs Classifieds Events Recipes PodCasts
Copyright 2005, 2014, HareKrsna.com. All rights reserved.