Astha Svayam Vyakta Kshetras, Part 9
BY: SUN STAFF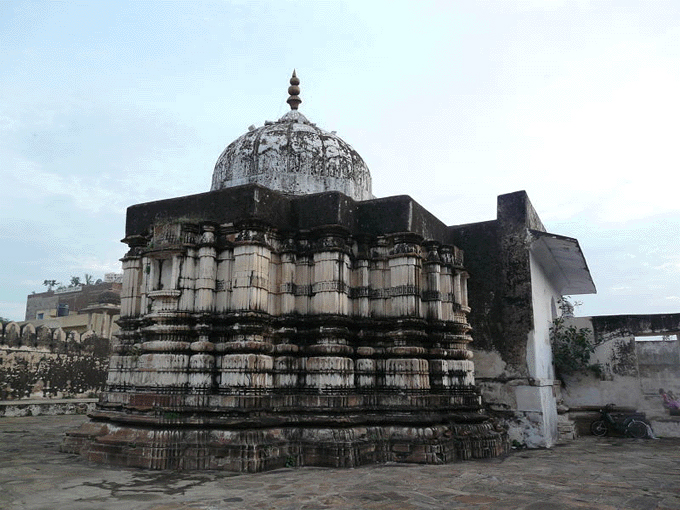 Lord Varaha
Varah Temple - Aajmeer, Rajasthan
Jan 18, 2014 — CANADA (SUN) — A serial presentation of svayambhu Lord Visnu's eight abodes.
Eighth among the astha-svayam-vyakta kshetras is the holy dham at Pushkar, 11 km. northwest of Aajmeer, Rajasthan, where Sri Paramapurushan resides. Known by this name in Srivaishnava tradition, the Lord at Pushkar is more commonly known as Lord Varaha, and the temple at Pushkar as Varah Temple. The Lord is accompanied by His consort, Bhu Devi (Pundareegavalli).
With the presence of Lord Varaha, Pushkar is like our second svayam-vyakta kshetra in this series, Sri Mushnum, where Sri Bhuvarahaswamy resides.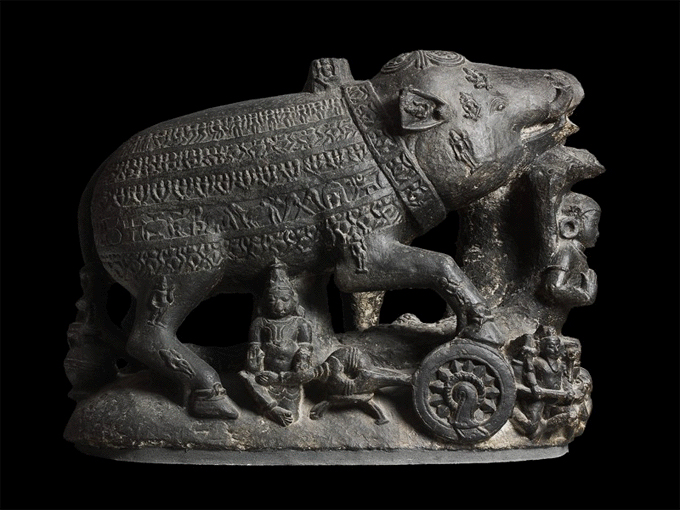 Lord Varaha
University of Oxford - Ashmolean Museum
Pushkar, located in the Ajmer district of Rajasthan, is most famously known as the primary place of worship of Lord Brahma, and is thus known as a teerth raj. It is Lord Varaha's temple, however, that is the most ancient temple in Pushkar dham, and the Varaha and Brahma temples are considered equally important.
While no photos are available to us, the svayambhu Deity of Lord Varaha is said to be of white stone, standing 2 feet high. The Lord has the body of a boar and the head of a man.
Varah Temple
The temple itself is built of heavy stone and plaster in typical Rajasthani Haveli style. Situated inside a walled temple compound, the structure has large pilasters, gateways, chhatris and hanging eaves. Devotees ascend a long staircase to the entrance on one side.
Varah Ghat is one of Pushkar's most important ghats, and the 7.0 kos parikrama traditionally starts out from the ghat.

Varah Temple Compound
[ Photo: Narayan Palace, Pushkar ]
The original Varah Temple was built in Pushkar during the reign of King Anaji Chauhan (1130-1150 A.D.), who was the grandfather of King Prithviraj Chauhan. It was destroyed by the Ghaznavid army under Arnoraja during that time. The temple was said to be 150 feet in height and ornamented with excellent Vaisnava sculptures.
The temple was first rebuilt by the Hada Chatrasal of Bundi, and was again destroyed by Aurangzeb. It was rebuilt in 1727 by Raja Sawai Jai Singh II of Jaipur. To this day, the ruins of stone lintels, carvings and broken architectural ornaments lie strewn about the temple compound. The temple was again renovated in 1806 by Gokul Chand Parikh, a Scindia minister.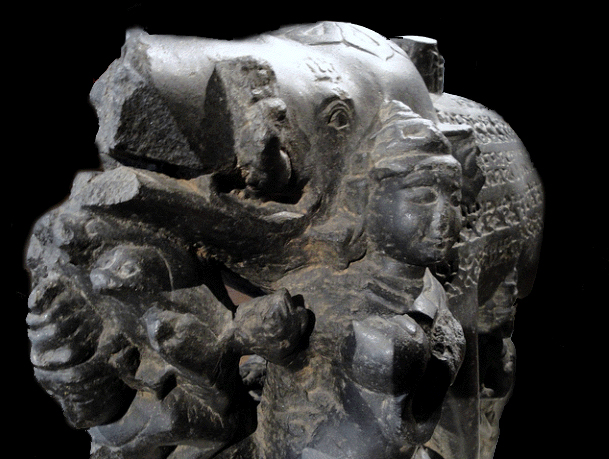 Lord Varaha
12th C., Rajasthan
You can read more about the destructive Islamists who ruined Vaisnava temples and deities of Lord Varaha in our past series, "The Mughal Influence on Vaishnavism".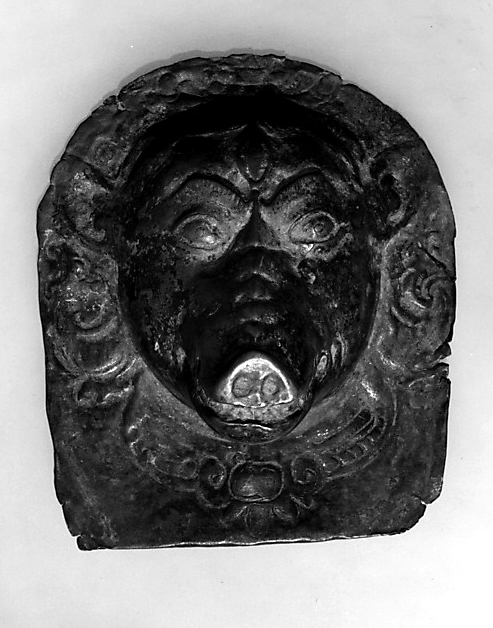 Lord Varaha
14th to 16th c., Metropolitan Museum

The Sun News Editorials Features Sun Blogs Classifieds Events Recipes PodCasts
Copyright 2005, 2014, HareKrsna.com. All rights reserved.