The Glories of Raghava's Bag, Part 2
BY: SUN STAFF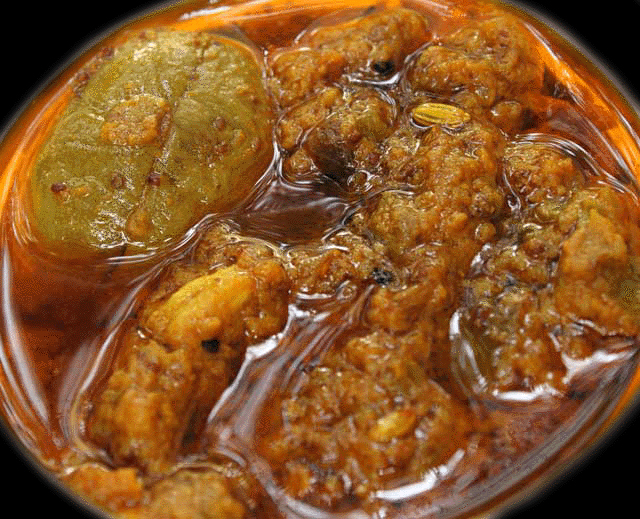 Pickle in Mustard Oil
Jan 17, 2013 — CANADA (SUN) — A journey through the nectarian contents of Raghava's Bag.
Pickles and Condiments
The story of raghavera-jhali offers the following first mention of foodstuffs contained within Raghava's Bag:
"These are the names of some of the pickles and condiments in the bags of Raghava Pandita: amra-kasandi, ada-kasandi, jhala-kasandi, nembu-ada, amra-koli, amsi, ama-khanda, tailamra and ama-satta."

(Caitanya-caritamrta, Antya lila 10.2.15-16)
The pastimes of the Lord and His servant Raghava involve many occasions on which Sri Raghava provided nectarian foodstuffs for Mahaprabhu's pleasure. Madhya lila 15.90-91 mentions that among the preparations Raghava offered, pickles were a favoured item:
"Raghava Pandita would also offer all kinds of pickles, such as kasamdi. He offered various scents, garments, ornaments and the best of everything.

Thus Raghava Pandita would serve the Lord in an incomparable way. Everyone was very satisfied just to see him."

(Caitanya-caritamrta, Madhya lila 15:42-92)
The names of the pickle and condiment preparations described above are given by their Sanskrit names, which in some cases are very similar to the names of foodstuffs in Bengali and/or Hindi.
Amra-kasandi is a mango relish: amra is mango (also ama) and kasandi is relish. It typically features a strong mustard flavour.
Mustard seeds are found in almost all pickling spice mixes. Whatever acid you're using to pickle (e.g., citric acid or lemon juice instead of vinegar), the acids will keep the mustard flavor from developing, so when preparing kasandi, one has to get the flavor of the mustard seeds to fully release by frying, or mixing the powder with water, before adding the acid element.
Besides its excellent flavour, one of the reasons mustard is found in so many pickles and condiments is that the enzyme which activates mustard oil, myrosinase, also acts as an excellent natural pesticide. This makes it a valuable food preservative for things that are kept long on the shelf, like pickle. In fact, once the oils kick-in, mustard can be mixed with water and sprayed onto plants, or even applied to the skin as a bug repellant.
Among the other types of kasandi pickle or relishes in Raghava's portable pantry are:
ada-kasandi: ginger pickle

nembu-ada: a preparation made with lime and ginger

jhala-kasandi: a condiment spiced with black pepper or chili

amra-koli: a mixture of mango and berries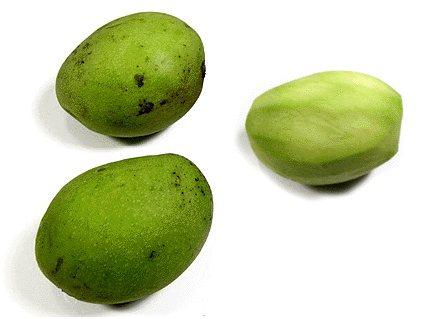 Green Mango
Amsi is a powdered mango condiment. Amsi is also known as amchur or aachar. Dried mango powder is used as a spice, and is found in many pickle preparations. It's made by simply grinding dried unripe mango. The powder preserves the acidic and tart flavour of unripe mangoes. To make the preparation, just peel and slice unripe mangoes into thin strips. Rub with powdered turmeric and sun dry for about a week, then grind to a fine powder.
The preparation described as ama-khanda most likely refers to a preparation featuring broken rice along with a raw main ingredient. While the word khanda means onion in Marathi, in the case of ama-khanda, the khanda is surely broken rice. Khanda is also called kanki.
Ama-satta again seems to refer to a raw ingredient, but in this preparation likely mixed with a sweetened, perhaps powdered flat rice, or poha. Sweet sattas are made into all types of sweets, usually featuring a powdered rice.
Finally, there is tailamra, a preparation of mango soaked in mustard oil.
When preparing pickle, use a wooden spoon to stir instead of your bare hands, and minimize exposing the pickle to air. Pickle will last longer if you store them in clean sterilized jars. To sterilize jars for pickles and jams, put the jars upside down in a steamer basket and steam for several minutes. The bottles will be fully sterilized ready for any preserve. Wipe the inside of the jars with a cloth dipped in hot salted oil before storing pickle to keep it free of fungus. After refilling a pickle container, rub salt on the mouth of the container to keep pickle fresh. Always remove them from the jar with a dry spoon and not with your hand.
While making pickle, after you extract juice from lemons, cut the peel into small pieces; add salt to taste and steam in a pressure cooker for 10 minutes. Add chilli powder, asafoetida and hot gingelly oil seasoned with mustard seeds to the peel. Voila! Instant lime pickle.

Simple Mango Pickle
1 mango (big)
2 tsp ghee
1 tsp mustard seeds
1 tsp fenugreek seeds
A pinch of asafoetida
1 tsp red chili powder
Salt to taste
Cut the mangoes into very fine pieces. Add salt and red chillie powder. Heat 2 tsp of ghee, add mustard seeds. When it splutters, add a few fenugreek seeds and a pinch of asafoetida. Add chopped mango pieces and cover and cook for approximately 5 minutes, until mango becomes soft. Keep stirring occasionally. After 5 minutes turn off the heat and let it cool. Add a little jaggary or a pinch of sugar if you like, then offer.

Bengali Kasundi
5 oz fresh hot red chiles
1 tablespoon Mustard seeds
1 teaspoon asofoetida
1 small Green mango, peeled and shredded
Salt to taste
Combine all ingredients and blend smoothly. Cover and store up to 2 weeks in the refrigerator. Makes 1/2 cup.

Ginger Pickle
4 inches fresh ginger, diced
1/4 tsp mustard seeds
1/4 tsp fenugreek powder
1/4 tsp asafoetida
salt to taste
2 tsp red chillie powder
Wash and finely grate the ginger, then soak it for 5 minutes in water, and drain. Take 4 tsp oil and add mustard seeds till they splutter, then add fenugreek seed powder and asafoetida. Add grated ginger, salt, red chillie powder and fry well till the moisture is gone and it becomes a non-sticky paste.


The Sun News Editorials Features Sun Blogs Classifieds Events Recipes PodCasts
Copyright 2005, 2013, HareKrsna.com. All rights reserved.