Panch Prayag, Part 6
BY: SUN STAFF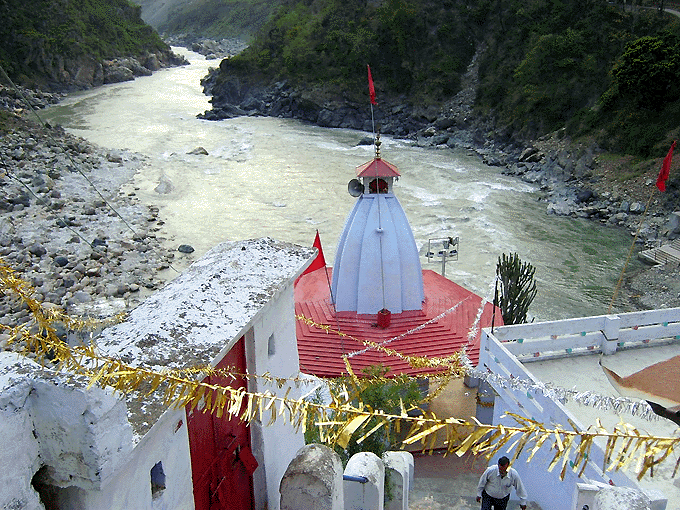 Rudraprayag
Photo courtesy Scriptures.ru
Jan 02, 2013 — CANADA (SUN) — Places of Pilgrimage: A serial exploration of the Pancha Prayag.
Rudraprayag
Rudraprayag is surrounded by lofty mountains and dwindling forests of Deodar and Pine, at an elevation of 2,936 feet (895 metres) above sea level. This prayag is not as serene as Devaprayag, because the city is growing steadily and resources diminished. The road splits at Rudraprayag. One branch goes towards Kedarnath-dhama and the other towards Badrinath, by way of Karnaprayag, Nandaprayag and Vishnuprayag - the first three prayags covered in this series.
While Badrinath is the source of holy waters for the first three prayags of the Panch Prayag, Rudraprayag is associated with Kedernath-dhama, from which the Mandakini River proceeds. After merging with the Mandakini, the Alaknanda River flows on towards Devaprayag where it joins with Bhagirathi river to form the Ganges. Kedarnath is 86 km. north of Rudraprayag.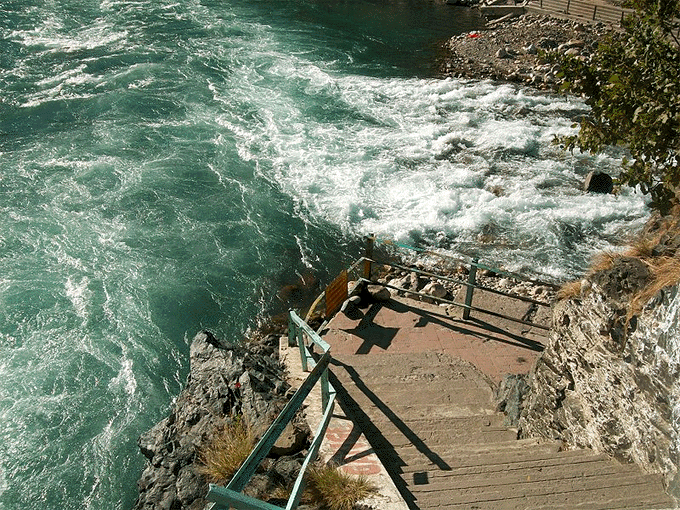 Confluence of Alaknanda and Mandakini at Rudraprayag
The Rudraprayag confluence of the Alaknanda and Mandakini Rivers is named after Lord Shiva, in his Rudra manifestation. Shiva is said to have performed Tandava here, the vigorous dance of Nataraj. He also played his Rudra veena at this prayag, enticing Lord Visnu to come, then transforming Him into water.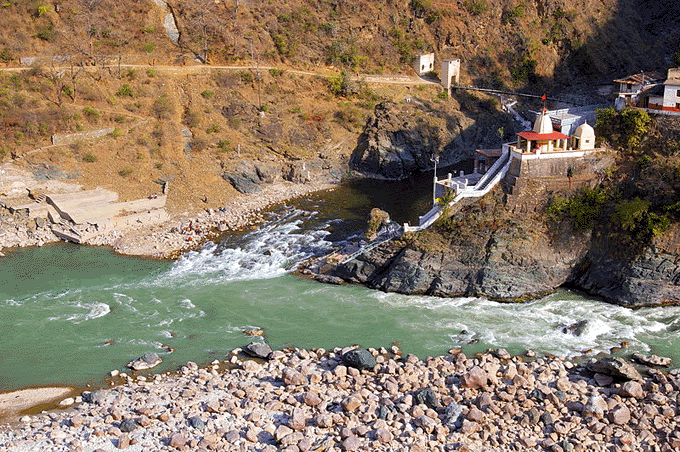 Rudraprayag, at the confluence of the Alaknanda (foreground) and Mandakini Rivers
Elsewhere, the sage Narada had once become enamored of his own veena playing. The other demigods implored Krsna to intervene, so Krsna told Narada that Shiva and Parvati were impressed by his musical talent. Narada was so taken by the praise that he immediately set out to meet Shiva in the Himalayas. Along the way, at Rudra Prayag, he met several beautiful raginis, who were the embodiment of various musical notes. But they were disfigured, and said that the reason for their disfigurement was squarely attributed to Narada playing his veena. Hearing this, Narada felt humbled and surrendered before Shiva, pledging to devote himself to learning music as Shiva's disciple. The rock at Rudraprayag where Narada Muni sat to worship is known as Narad Shila.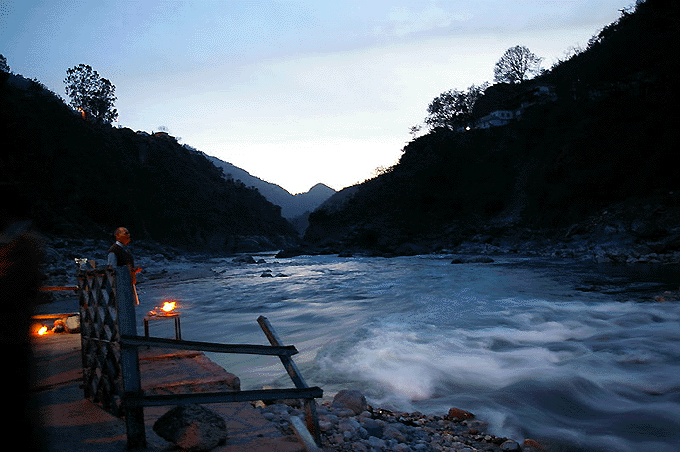 Sandhya-aarti at Rudraprayag
It is also said that Sati was reborn as Parvati, the daughter of King Himalaya, after she self-immolated herself. In spite of Himalaya's protests, Parvati performed rigorous penance to get the boon of becoming Shiva's wife in a future birth.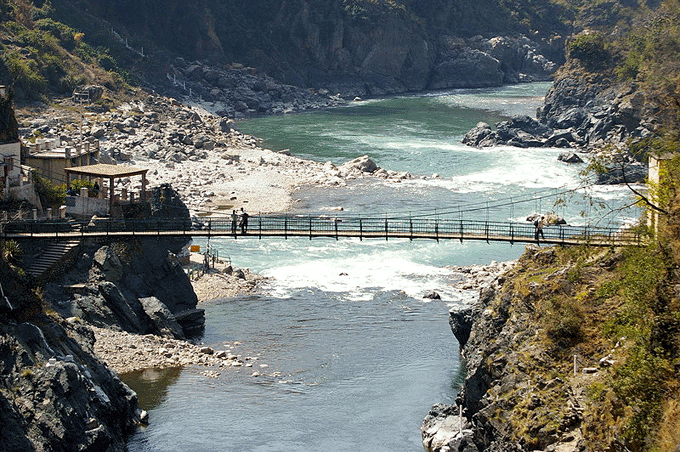 There are temples here at Rudraprayag dedicated to Rudranath (Shiva) and the goddess Chamunda, a form of Devi who at Rudraprayag, is the consort of Shiva (Parvati).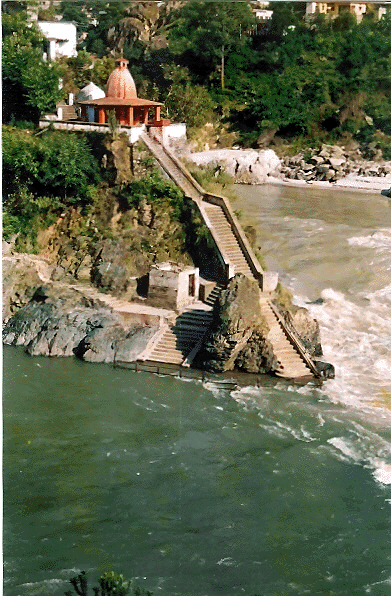 Stairway to the Rudraprayag ghat
There are a number of important shrines in the vicinity of Rudraprayag. Located three km. from the confluence on the banks of Alaknanda River is the Koteshwar cave temple, dedicated to Lord Shiva. Shiva meditated here before going to Kedarnath. There are various other temples nearby associated with Shiva, including Tungeshwar Mahadev temple near Chopta, and Kartik Swami temple, dedicated to Shiva's son, Kartikeya.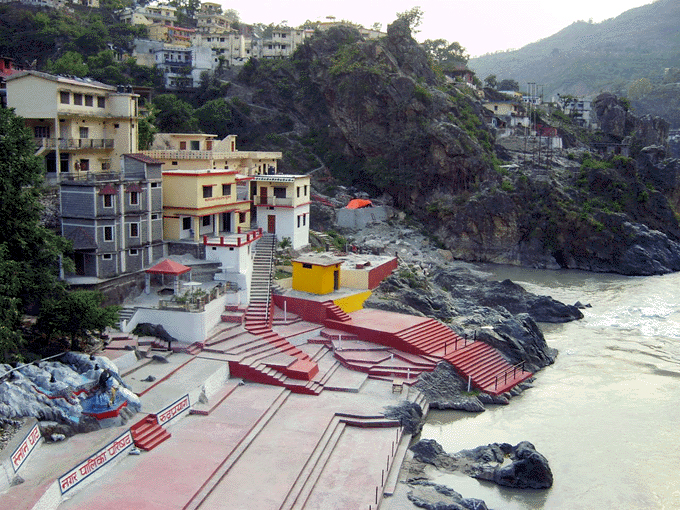 Bathing ghats at Rudraprayag
Photo courtesy Scriptures.ru
RESOURCES:
Charanik@Wordpress, www.Scriptures.ru, Wikipedia


The Sun News Editorials Features Sun Blogs Classifieds Events Recipes PodCasts
Copyright 2005, 2013, HareKrsna.com. All rights reserved.