The Bhakti Movement: Assam, Part 2
BY: SUN STAFF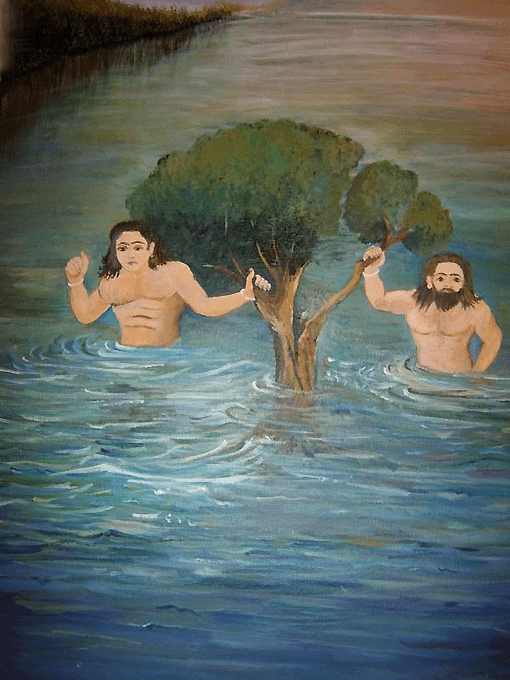 Shankardeva makes the Brahmaputra his devotee
Painting by Mabegum Pasa
Jan 14, 2012 — CANADA (SUN) — A serial presentation of the Bhakti Movement's development in India.
After leaving school in his late teens (c. 1469 A.D.), Srimanta Sankardeva wrote his first literary work, Harishchandra-upakhyan. He also produced a dance-drama called Cihna-yatra, for which he painted a depiction of the Sapta-vaikuntha (seven heavens), and had musical instruments made that he played himself in the dramatic performance.
At Bordowa, he constructed a dharmagrha or a hari-grha (house of the Lord) in which he installed an image of Vishnu that was found during the construction of the grha. He did not worship the Deity, however, and was actually opposed to any sort of deity worship. His only focus was on recitation of the Holy Names.
Marrying his first wife in his early twenties, she died soon after, leaving him with a daughter named Manu. This experience apparently deepened his spiritual inclination and a few years later, marrying off his daughter at age nine, he left on pilgrimage. Sankardeva traveled to Jagannatha Puri, Mathura, Dwaraka, Vrindavan, Gaya, Rameswaram, Ayodhya, Sitakunda, and almost all the other major seats of Vaishnavism in India.
At Badrikashrama, he composed his first bargeet — mana meri ram charanahi lagu — in Brajavali. He returned home to Ali-pukhuri after 12 years of traveling and witnessing first-hand the Bhakti Movement that was overtaking all parts of India.
Sankardeva's pilgrimage concluded around 1481 A.D., just five years before the advent of Lord Chaitanya Mahaprabhu. The proliferation of the Bhakti cult that he discovered in all the tirthas he visited was certainly a precursor manifestation heralding the impending Appearance of Sri Krsna Chaitanya. That Bhakti Movement grew to perfection in the Gaudiya Vaisnava sampradaya, and with the advent of its great Sampradaya Acaryas, the Holy Name of Krsna and the science of bhakti-yoga were finally delivered to the entire world, delivered by His Divine Grace A.C. Bhaktivedanta Swami Prabhupada.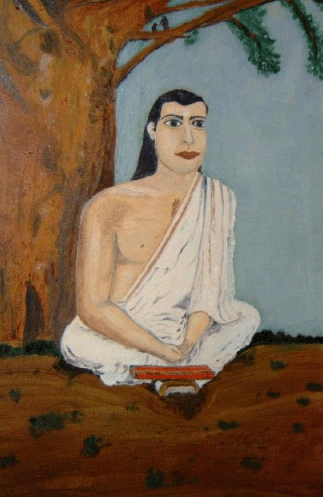 Srimanta Shankardeva
Painting by Dr. Sarmila Kakoti
In his mid-forties, Sankardeva built his own prayer hall, or naamghar, and began actively preaching. He wrote the Bhakti-pradipa and Rukmini-harana. Around this time he was given a copy of the Bhagavata Purana by Jagadisa Mishra of Tirhut, Mithila. This Bhagavata had been purported by Sridhara Swami of Puri, the famous Advaita scholar of Orissa. Sankardeva began rendering the Bhagavata into Assamese, and also began composing the Kirtana-ghosha.
During his 13 years at Ali-pukhuri, Sankardeva became absorbed in Vaishnavism, and began formulating an approach for preaching the philosophy in a way he felt would be best suited to the spiritual and ethical needs of the Assam people.
During the next period of his life, Sankardeva was forced to move himself and his family repeatedly, as skirmishes broke out in the political battle between the Koch and Ahom kingdoms. He continued to preach his naam-dharma in the face of great resistance, which even resulted in his son-in law Hari being executed due to religious persecution.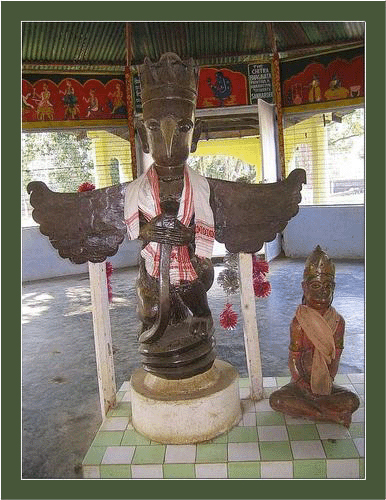 Murtis at Shankardeva monastery on Majuli Island, Assam,
where Shankardeva took refuge
At Dhuwahat, Sankardeva initiated many disciples, and continued composing his Kirtana-ghosha. Although he tried to appease the local brahmans by gentle persuasion and debate, they were very threatened by the emergence of a new religion that was being propagated by this upstart non-brahmin, and they caused Sankardeva much difficulty with the local Ahom court.
Finally, Sankardeva left this environment of religious interference, and moved into the region of the Koch kingdom, where he continued to preach, and made many famous Vaishnava disciples.
REFERENCES:
The Srimanta Sankaradeva Foundation
An Unsung Colossus: An Introduction to the Life and Works of Sankaradeva by Sivnath Barman, Guwahati (1999)


The Sun News Editorials Features Sun Blogs Classifieds Events Recipes PodCasts
Copyright 2005, 2012, HareKrsna.com. All rights reserved.