Seeing Through the Eyes of an Aspiring Vaisnava

BY: BHAKTA JOHN JAGANNATHA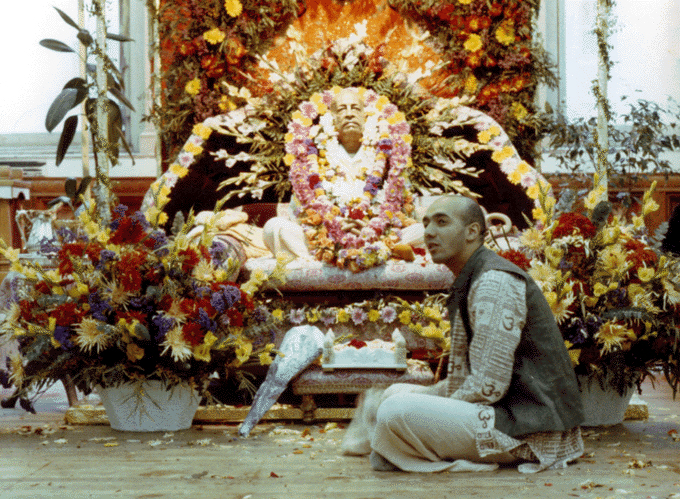 Sep 03, 2017 —NEW YORK (SUN) — H.G. Akrura dasa Brahmachari (SDG) - a True Friend and Godbrother

In the transcendental words of Lord Chaitanya Mahaprabhu; "Anyone who takes to devotional service is exalted..."

At the recent New York City Ratha Yatra I heard the sad words that a friend and god-brother had left his body.

His Grace Akrura dasa brahmachari received diksa and brahminical inititations from Satsvaraupa dasa Goswami in the late 1970's and early 1980's. He was the younger brother of His Grace Lokamangala dasa brahmachari (ACBSP), the well known ISKCON devotee actor famous for his wonderful portrayals of King Kamsa and Ravana. Their mother was a regular at the Free Sunday Love Feasts.

The following is a humble attempt to offer the devotees the opportunity to see through Akrura prabhu's eyes and how he was seen by others while he was still here with us. The overall majority of photos included herein was taken by Akrura prabhu or otherwise were part of his personal photo collection.

I apologize for not having information on the names and places of most of the photos taken in India and elsewhere. I am sure there are many Vaisnavas who will be able to identify persons and places better than I.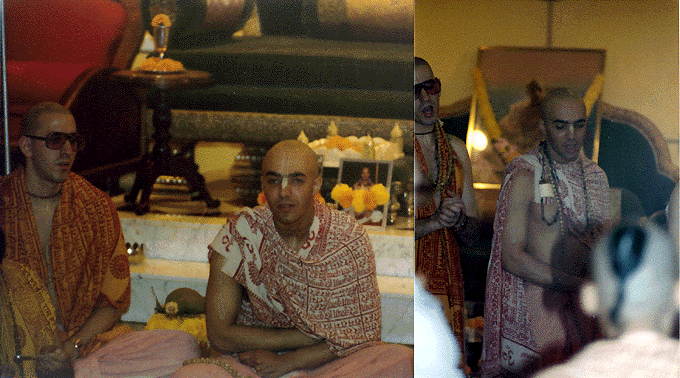 Diksa Initiation April 1979

Diksa Initiation April 1979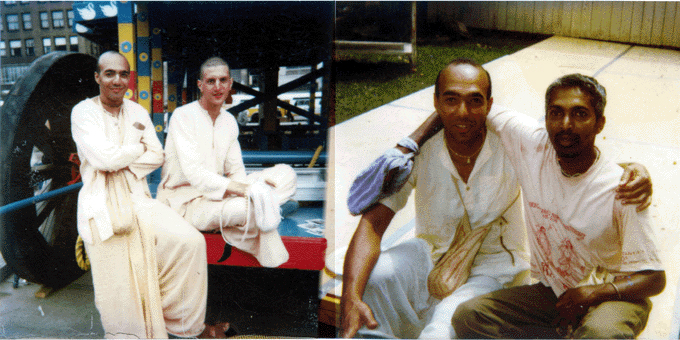 Left: Working on carts
Right: With Varnashrama dasa (SDG)

With Ghanashyama dasa (SDG)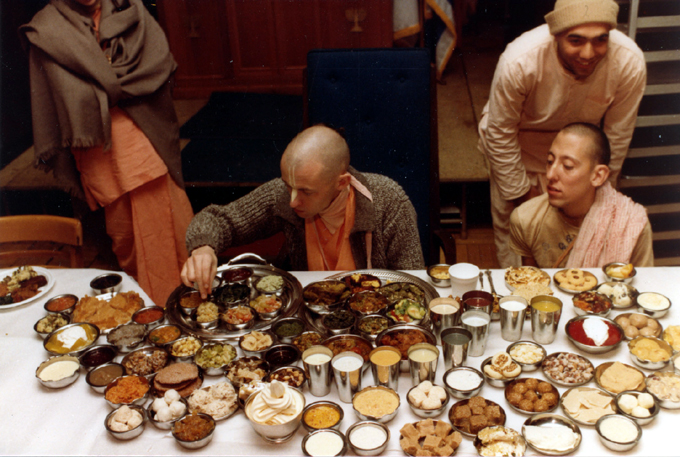 With SDG and Damodara Dasa (SDG)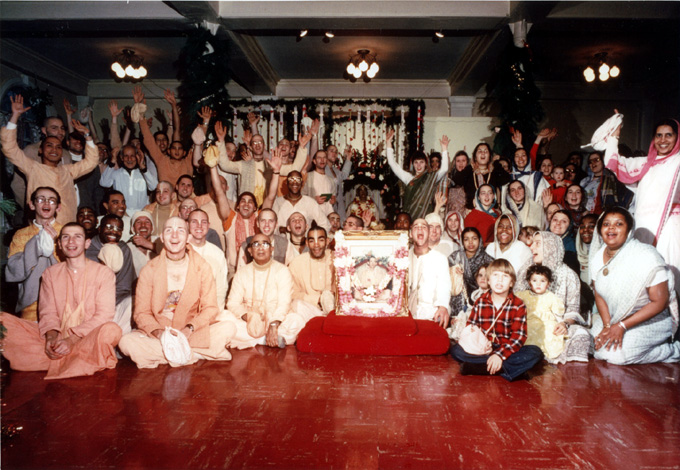 God-brothers and God-sisters circa 1980

Akrura's elder brother HG Lokamangala dasa (ACBSP), 2nd from left and 3rd from right
Akrura Prabhu's Photos of his 1981 Pilgrimage to India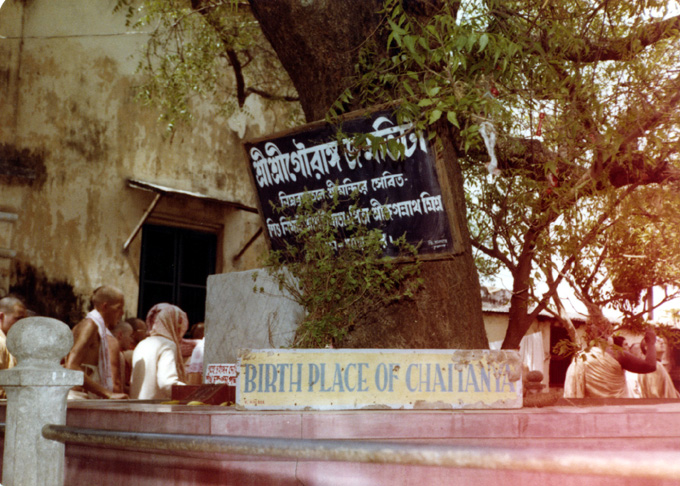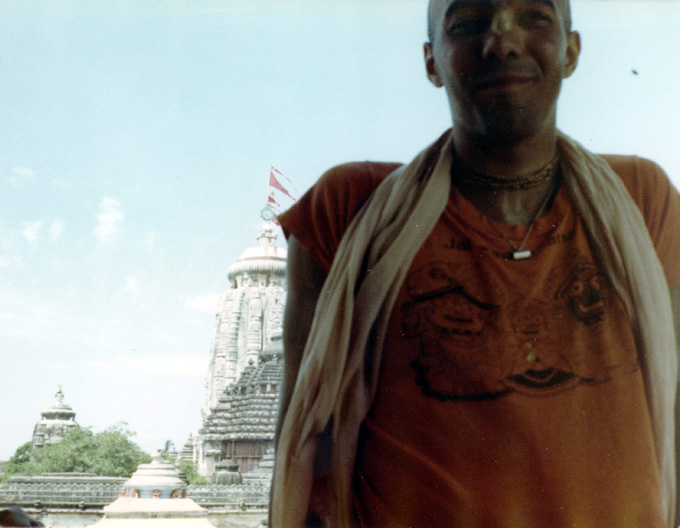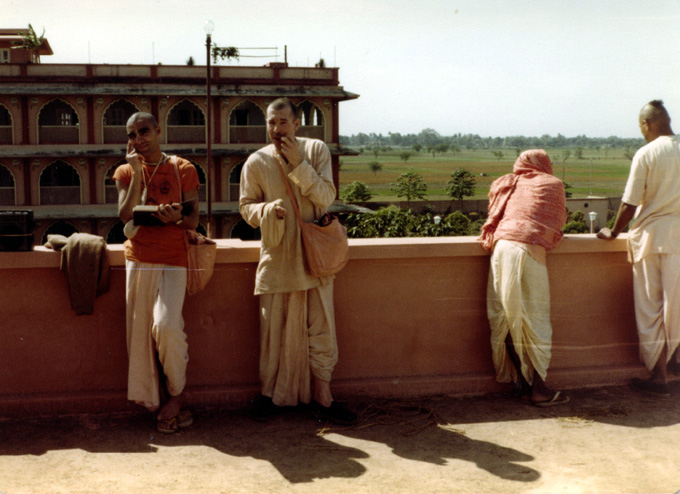 Mahaprabhu dasa (SDG) and Divyalila dasa (SDG)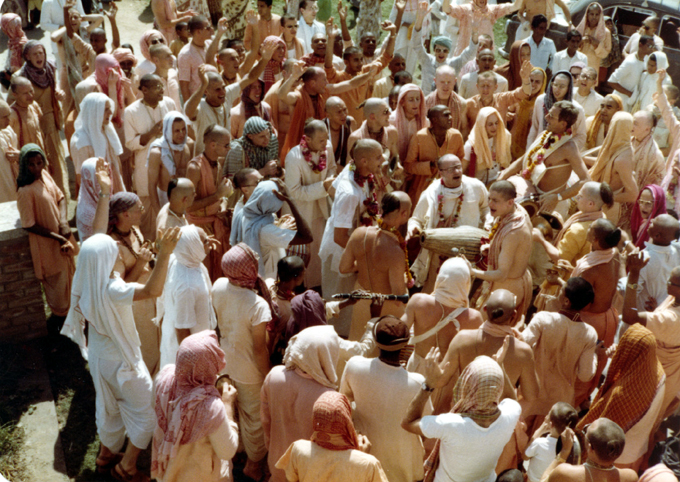 HARE KRSNA HARE KRSNA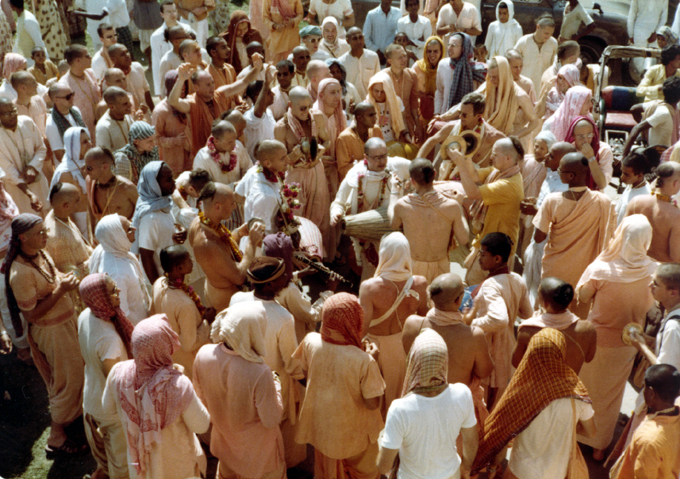 KRSNA KRSNA HARE HARE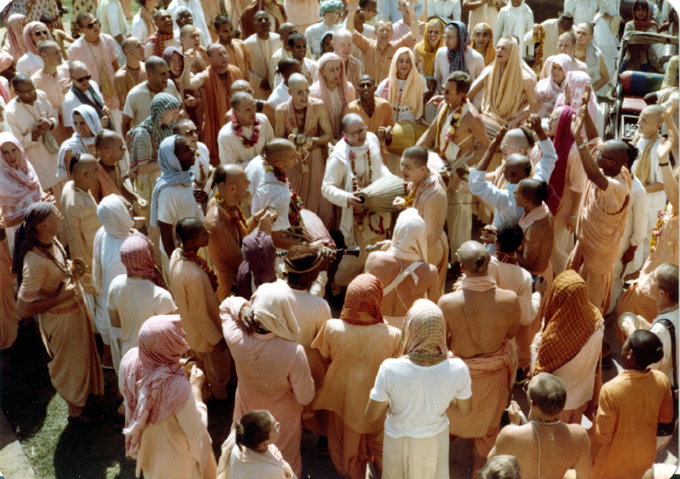 HARE RAMA HARE RAMA RAMA RAMA HARE HARE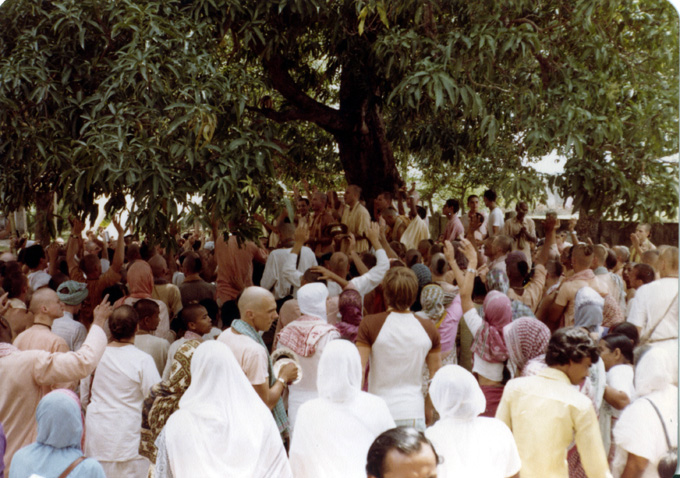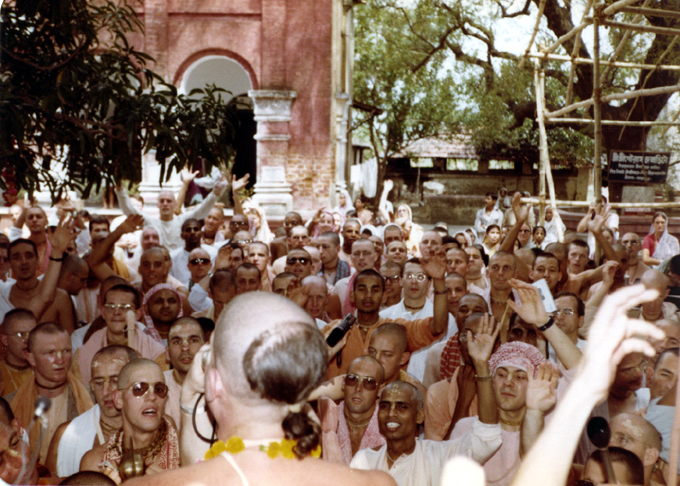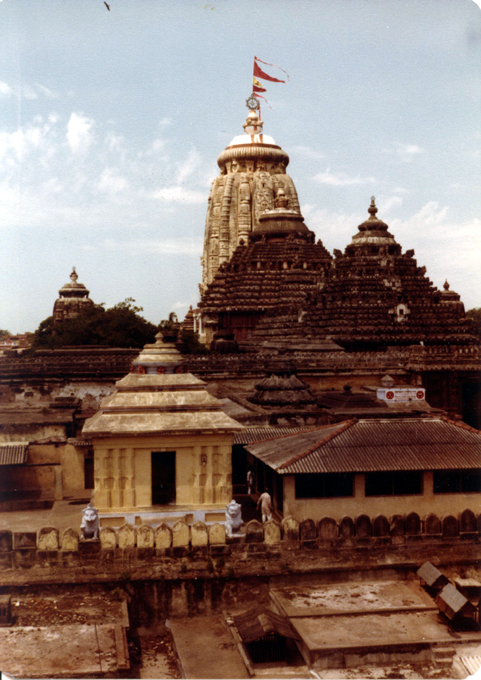 Jagannatha Svami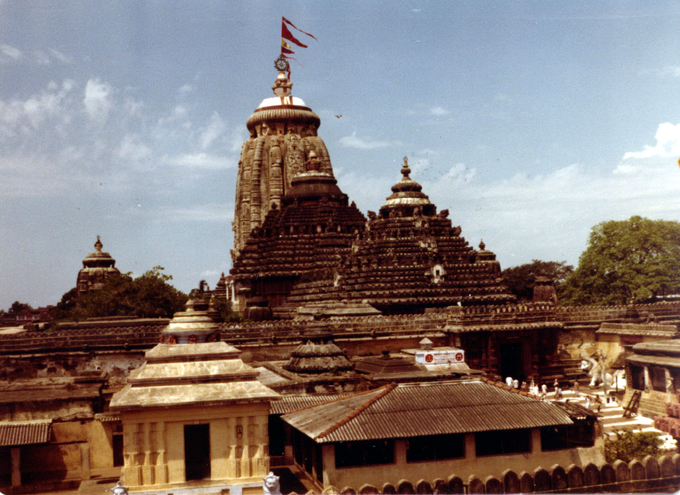 Nayana pata gami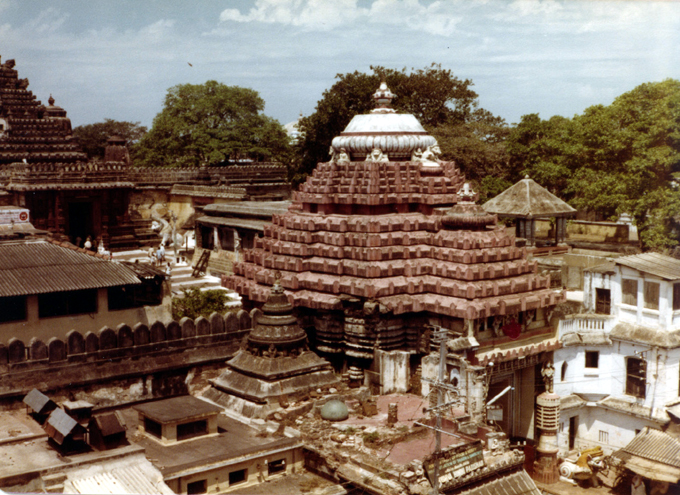 Bhavatu me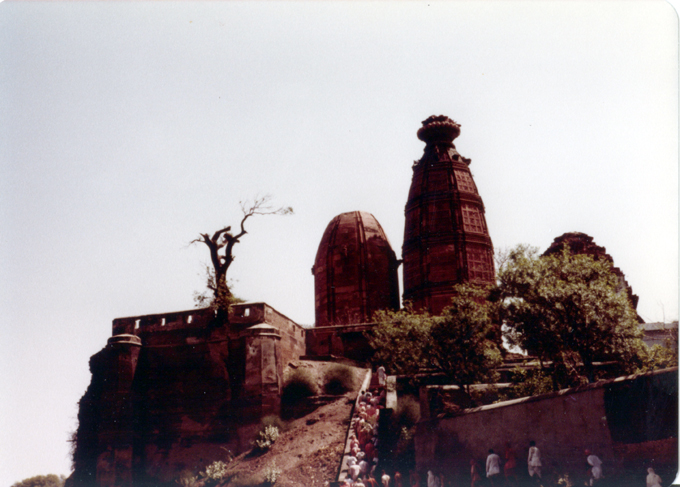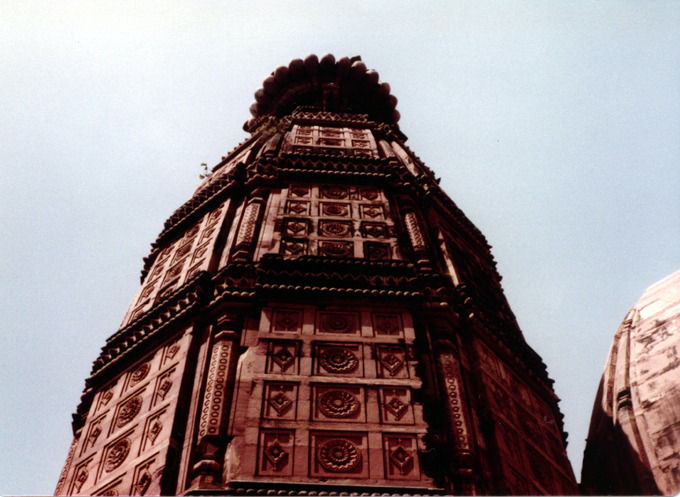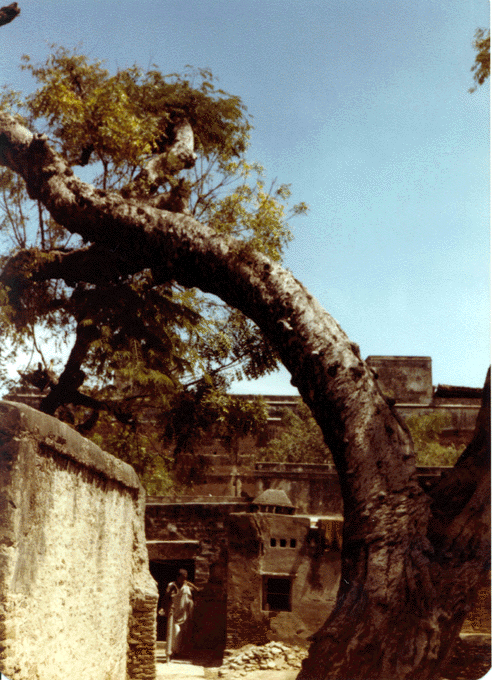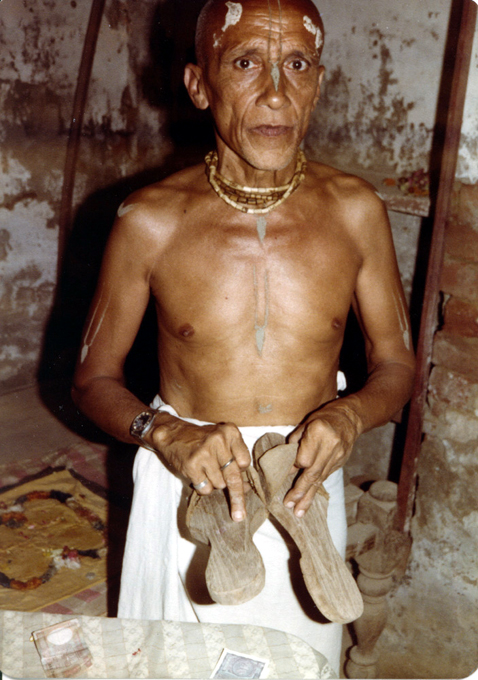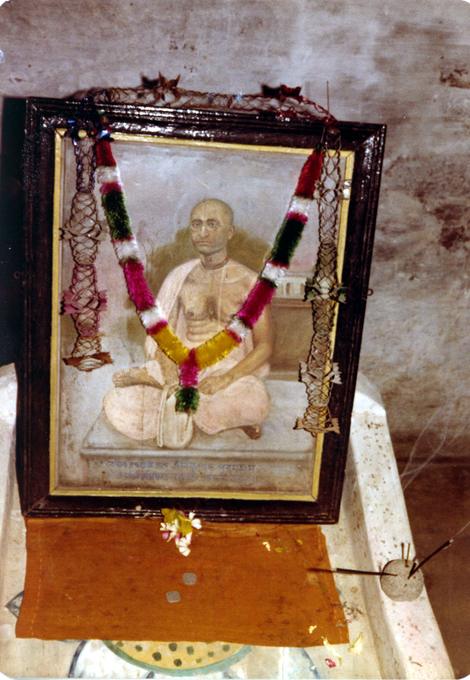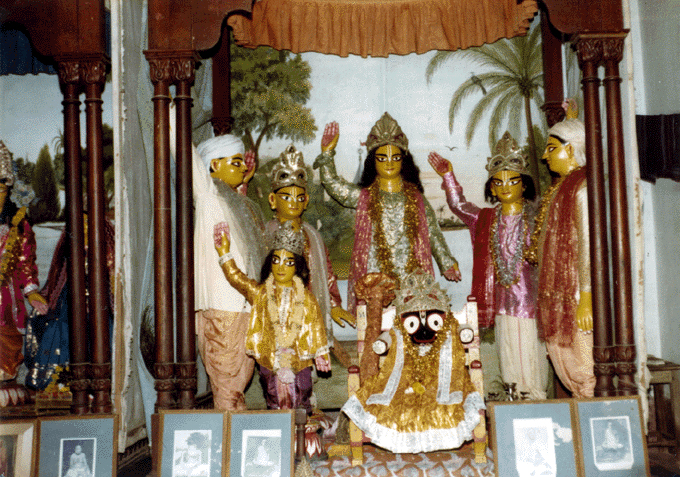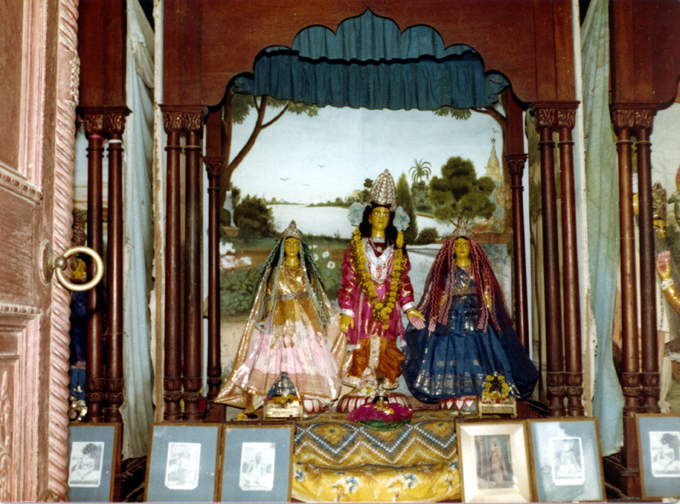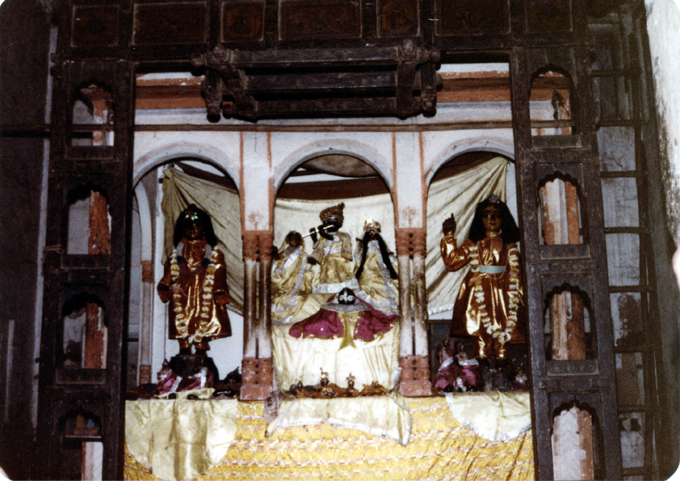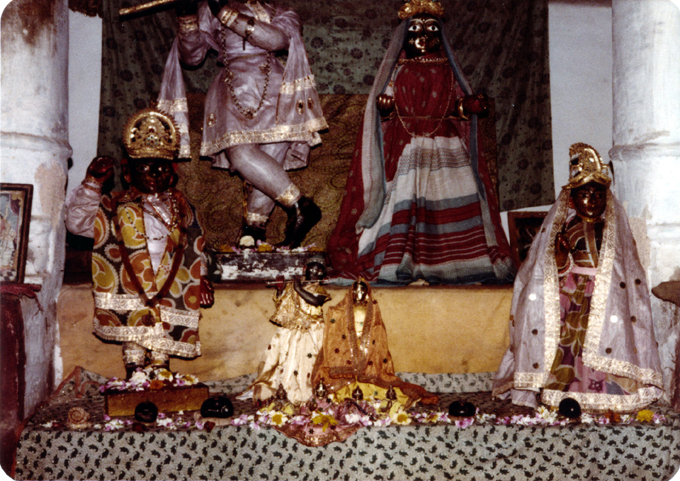 krsnasyoccaih pranaya-vasatih preyasibhyo 'pi radha
kundam casya munibhir abhitas tadrg eva vyadhayi
yat presthair apy alam asulabham kim punar bhakti-bhajam
tat premedam sakrd api sarah snatur aviskaroti

Translation:
Of the many objects of favored delight and of all the lovable damsels of Vrajabhumi, Srimati Radharani is certainly the most treasured object of Krsna's love. And, in every respect, Her divine kunda is described by great sages as similarly dear to Him. Undoubtedly Radha-kunda is very rarely attained even by the great devotees; therefore it is even more difficult for ordinary devotees to attain. If one simply bathes once within those holy waters, one's pure love of Krsna is fully aroused. (Sri Upadesamrta, Text 11)

Partial Purport:
Why is Radha-kunda so exalted? The lake is so exalted because it belongs to Srimati Radharani, who is the most beloved object of Sri Krsna. Among all the gopis, She is the most beloved. Similarly, Her lake, Sri Radha-kunda, is also described by great sages as the lake that is as dear to Krsna as Radha Herself. Indeed, Krsna's love for Radha-kunda and Srimati Radharani is the same in all respects…

It is stated that a devotee will at once develop pure love of Krsna in the wake of the gopis if he once takes a bath in Radha-kunda…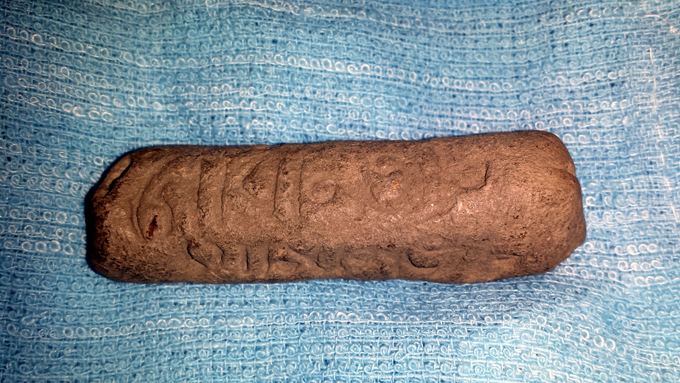 Akrura prabhu gifted this piece of Radha-kunda tilaka to me from his 1981 pilgrimage
A Visit to Akrura Prabhu's Home in March 2008
(With journal entries for the day)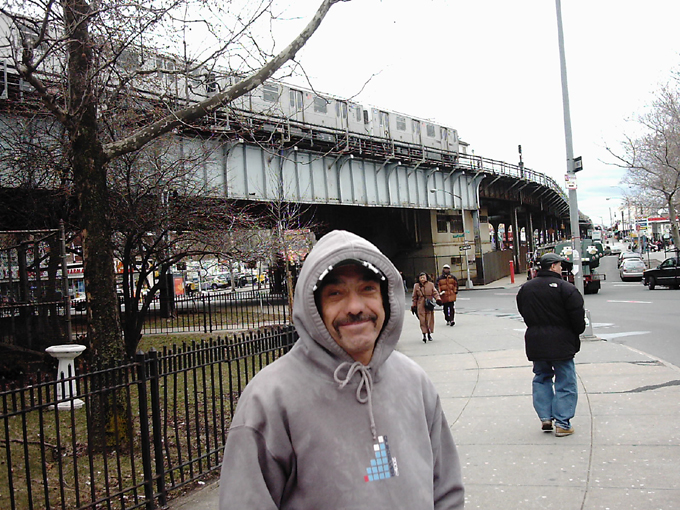 Akrura prabhu greets me at the train station in the Bronx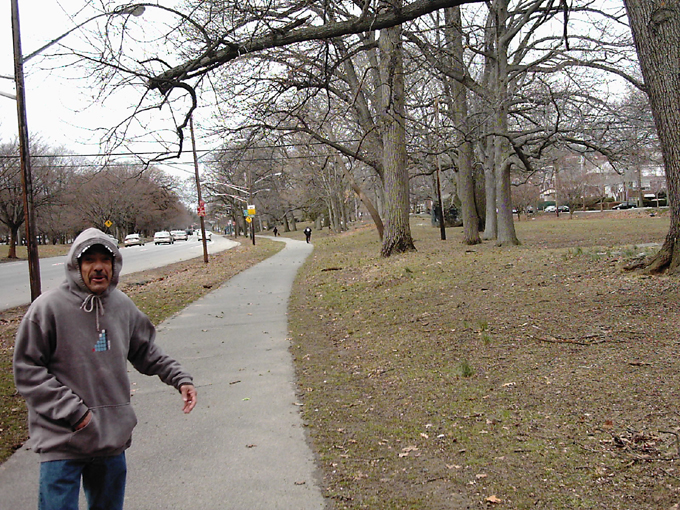 "It's only six miles, prabhu."
Today March 20, 2008
I went to Akrura's today.
I got there at about 10 am and we went for a 6 mile walk. Then we went to his apt. I got darshan of Sri Sri Gaura Nitai and Their Lordships Jagannatha, Baladeva and Lady Subhadra. Akrura prabhu prepared some bhoga and gave me the honor of offering to the Deities and then we took with relish some baked potato, eggplant parmesan, green salad and blueberry halavah. After, we looked at his devotional photos which he allowed me to take home with me to scan. We spoke Krishna katha for a few hours and then I took the train home.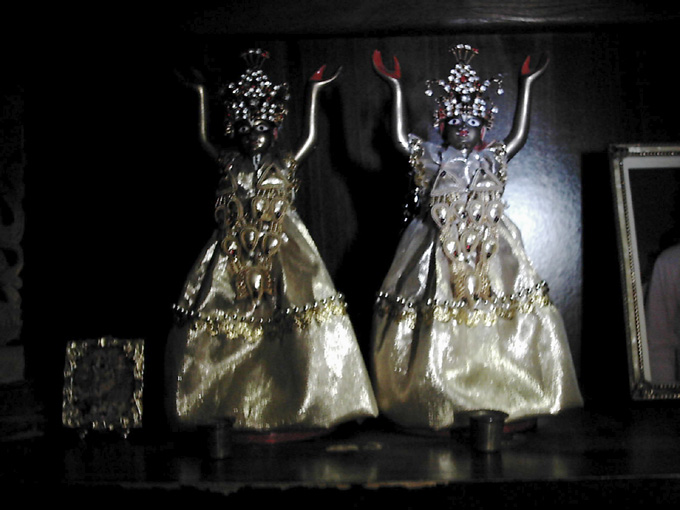 Akrura prabhu's Gaura Nitai Deities
Akrura said -

When I visited Akrura prabhu he told me it took him a long time to surrender. He would visit the Henry Street temple where Lokamangala (his brother) lived and not take prasadam at all. When the devotees would try to put tilak on his forehead when he entered the temple, as was the custom at that time, (What happened to that custom?) he would avoid them. He had many chances to see Srila Prabhupada but would not go to see him because he was afraid that if Prabhupada looked him in the eyes he would become a devotee. He told me of working on the first NY Ratha Yatra carts. He would go from 9am to 9pm everyday for so many weeks. He received no pay but he loved to go everyday and do devotional service. He served with Jayananda prabhu and Damodara prabhu and Jivadhara prabhu and others. He would sometimes drive a fork lift. He said he couldn't wait to get up in the morning and help build Lord Jagannatha's chariots.

He told me that Niranjana prabhu would ask him again and again to stay overnight but for years he would refuse. Until one day Niranjana prabhu told him that this was the last time he would ask him and Akrura prabhu finally said yes. He told me how Bhagavatananda prabhu would come to the restaurant and buy prasadam and sit on the floor in the middle of the restaurant wearing his wild clothes and big afro and chant mantras over the prasadam and Akrura prabhu would have to gently convince him to please sit at a table like everyone else. He told me of having to kick out K dasa and A dasa for stealing money from the restaurant. How he became like a madman, he was so upset that they would steal from Krishna, that in spite of both those devotees having experience with martial arts, and at great risk to his own well being, he was fearless and got in their faces and made them leave immediately.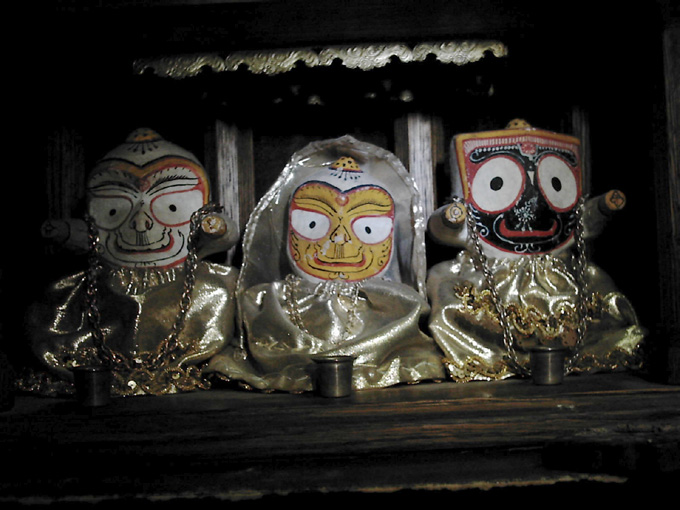 Akrura prabhu's Deities of Lord Jagannatha, Lord Baladeva and Lady Subhadra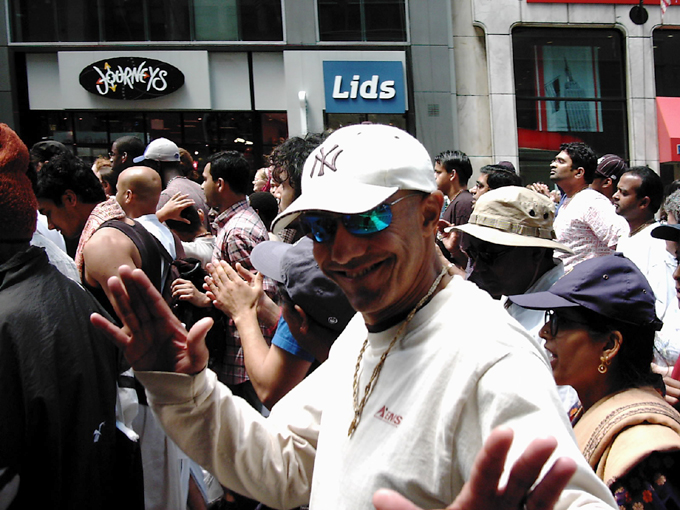 Manhattan Ratha Yatra 5th Avenue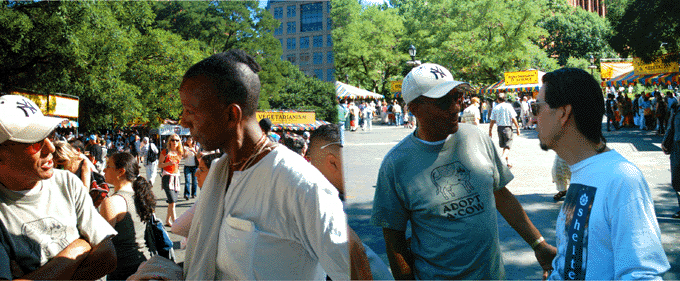 Washington Square Park Ratha Yatra Festival



Dear Devotees,
Soon all of us will leave this temporal reality. We are all individual spirit souls with unique personalities. Although some individuals tend to be alone it does not necessarily mean they are anti-social. Please don't forget your friends, old and new, and loved ones. No matter how near or far. Please send some transcendental sound vibrations their way. With the exception of Guru and Krsna in his heart, Akrura prabhu was alone when he left his body.

NO ONE, ESPECIALLY AN ASPIRING VAISNAVA, SHOULD LEAVE THEIR BODY ALONE, IN ANONIMITY, BEREFT OF ANY DEVOTIONAL ASSOCIATION. IT'S NOT MERCIFUL. WE ARE STRIVING FOR MERCY FOR ALL THE CONDITIONED SOULS. ISN'T IT? SHAME ON ME FOR NOT STAYING IN TOUCH.

On a very personal note; the two persons on this planet who knew me better than anyone, are both gone from here. The only two persons that slept peacefully by my side, and I theirs, are gone. First, Akrura and I slept side by side in our sleeping bags for months in the Bhakta program in 340 West 55th Street. Second, Mother Maria and I slept side by side in our sleeping bags for years in our marriage. I won't see them here anymore.

I am not saying I was Akrura's best or closest god-brother and friend. He was my best friend/god-brother. We shared trips to Gita Nagari Ratha Yatras over the years. He visited my home in Queens and I visited his home in the Bronx. He was a kind uncle to my sons.

We last associated at the 2015 New York Ratha Yatra. We sat together on the grass in Washington Square Park and honored Jagannatha prasadam and it was just like it always was – Krsna Katha – funny and serious and a transcendentally happy place to be.

I am so sad that both loved ones have disappeared. So sad. I am so happy that both loved ones are possibly closer now, if not there already, to the Kingdom of God. So happy.

satatam kirtayanto mam
yatantas ca drdha-vratah
namasyantas ca mam bhaktya
nitya-yukta upasate

Translation:
Always chanting My glories, endeavoring with great determination, bowing down before Me, these great souls perpetually worship Me with devotion.
(Bhagavad-gita, As It Is, Chapter 9, Text 14)

| The Sun | News | Editorials | Features | Sun Blogs | Classifieds | Events | Recipes | PodCasts |

| About | Submit an Article | Contact Us | Advertise | HareKrsna.com |
Copyright 2005, 2017, HareKrsna.com. All rights reserved.