PERSONALS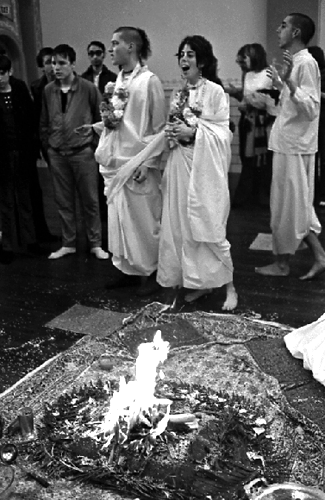 Deaf and Hearing-impaired Devotees
I am new to walk with Lord Krishna, and am seeking other deaf or hard of hearing devotees to correspond with. Blessings. Hare Krishna
Email: didgeridoo55@ymail.com

Submitted by Ric, February 17, 2013
Looking for Jivanuga das
I am writing to try and find any information as to the whereabouts of a long lost devotee who left the Atlanta Temple in 1976. He gave me a lot of guidance in 1975 and 1976. There is a picture of him in the original 'Krsna The Reservoir of Pleasure' pamphlet, reading Srimad Bhagavatam in the Boston Temple.
If anyone has any information, please contact me at Ramaraghava@yahoo.com.
Sincerely,
Rama Raghava dasa

Submitted by Rama Raghava dasa, January 29, 2013
SEEKING NANCY ELWELL DEANAN
Nancy Elwell Deanan from North Bennington Vermont, please email me. debracarriere@gmail.com.

Submitted by Debra Carrier, December 23, 2012
Marriage Mail for ISKCON Devotees
We are seeking a qualified Vaishnava candidate for a devotee lady from Russia named Julia. A long-time devotee, she grew up in a Nama Hatta family in Moscow. She was to become initiated by Srila Purnacandra Gosvami who unfortunately left our presence far too soon. She has since sheltered herself of Srila Niranjana Maharaja. For the time being Julis is residing at the Kiev, Ukraine ISKCON Center and is engaged there in the service to the Deities and to guests.
Mithuna Twiins Astrological Services has also been asked by H.H. Indradyumna Swami to find a match for his disciple Kumari Vishnupriya devi dasi born in 1986 in Russia. She lives in Moscow where she is a practicing attorney. She is highly educated and speaks fluent English. She is willing to suspend her practice of law to pursue family life alongside the shelter of a qualified husband in order to raise Krishna conscious children. For detailed biographies please click here.

Submitted by Mithuna Twiins Astrological Services, July 25, 2012
Marriage Mail for ISKCON Devotees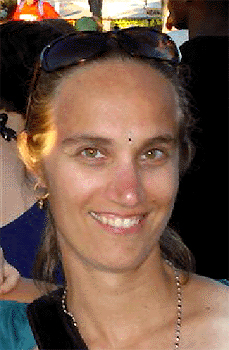 We are seeking a qualified devotee gentleman whose time has come to enter into grihasta ashram in service of Shri Guru and Gauranga. It will be our pleasure to introduce Prabhu Kumari Chintamoni devi to the right gentleman. She is the only daughter of Shriman Madhusudan das Adhikary and Shrimati Kanchanbala devi dasi. Chintamoni, who was born in April of 1979 in Los Angeles, has never been married, and has never been with a man. Therefore she will make a qualified kanya bride for a gentleman seeking chaste companionship in a Krishna conscious marriage. She is born under Rohini nakshatra, the favorite constellation of the demi-god of the Moon Chandra himself. Rohini is the very auspicious star under which Lord Shri Krishna Himslelf appeared. Rohini people have many fine qualities as seen by the exaltation of the Moon in Rohini. She also has a very fine hamsa mahapurush yoga whin the house of happiness and home. This yoga serves as a blessing for her entire life in every way.
Chintamoni is the epitome of a sanskari jiva, the product of loving yagna. Kanchanbala and Madhusudan Prabhus both joined Shrila Prabhupada at the first ISKCON Center at 26 2nd Ave in New York City. They are among the first few dozen original disciples and are very senior in the Hare Krishna Movement. Their marriage was blessed by Shrila Prabhupada. I am pleased that the two of them used to preach to me when I first started attending kirtan there in late 1967. The three of us worked at the early ISKCON Press together and performed years of yuga-dharma sankirtan-yagna together on the streets of New York and Boston. All three of us are in the exuberant crowd in the photo above taken in 1970 at Boston Commons.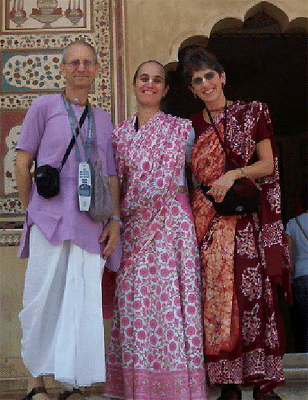 Since birth Chintamoni has remained under the loving shelter of her parents. Like them, she is a dedicated devotee of Shri Shri Radha-Krishna and an astute follower of Prabhupada's Bhagavad Gita As It Is. She is eager to enter into a spiritual relationship and to offer loving seva to the household and to her patideva.
So, Prabhus, if you know a gentleman who is interested in serving the Supreme Lord by entering into household life, please have him write to us to match the horoscopes. There is no charge for this service. Be sure that you send a photo and include your name, time, date and place of birth and write out the month. It is acceptable if the gentleman is Mangalik; that is, if his Mars is in house positions 1, 4, 7 or 12 from Moon or lagna. If the charts are favorable, then we will arrange a discreet e-introduction and you will be invited to correspond with her. All correspondences are 100% confidential. Mithuna Twiins Astrological Services welcomes your gentle inquiry at our address: dkrishna108@yahoo.com.

Submitted by Mithuna Twiins Astrological Services, June 24, 2012
Marriage Mail for ISKCON Devotees
We are introducing here two wonderful Vaishnavas, each of who are seeking a spiritual bond in the service of the Lord:
One devotee lady and one devotee gentleman
each desire spiritual partnership
(Click for details with photos)
Proper execution of varnashram dharma worldwide requires proper marriages. How many sages in the Mahabharata were married? Answer: practically all of them. For the Krishna conscious man and wife who are joined together in a sacred union based upon mutual respect and service to Shri Guru and Gauranga, life can be a very wonderful adventure.
And happiness in marriage is contingent upon astrological compatibility, the scientific system given in our shastras and recommended by Shrila Prabhupada. This Marriage Mail is intended for ISKCON devotees who are followers of Prabhupada's instructions, servants of Shri Radha-Krishna and who chant the minimally required 16 rounds each day. Please forward this letter to anyone you know who might be interested in this.
Always wishing you the very best,
Patita Pavana das Adhikary
www.vedicastrologers.org

Submitted by Mithuna Twiins Astrological Services, June 2, 2012
Seeking Cristina Mossian
Hello!
I am originally from Argentina. In the early 1970s a friend of mine, Cristina Mossian, came to the United States from Argentina. She was 17 or 18 at the time, and shortly after she joined the Hare Krsnas. We lost touch after that, but I would really appreciate any information leading to her - we were extremely close at that time, and I know we would have even more in common now. I know her name must have changed and that's why I need your help.
Thank you very much in advance!
Marta
Cristina knows me as Marta Cupesock
chemartu@gmail.com

Submitted by Marta Fox, December 14, 2011
Seeking a Wife
I am a long time initiate since 1971, Chicago. I have never lived in an ISKCON Temple so live and enjoy life free, easy, and without politics or rank and file. I am seeking a young wife, especially if from Ukraine or Russia. Please be chaste and physically fit. I am a world class athlete, strong and healthy. Bhima Bhakti, Email agaluma@hotmail.com

Submitted November 04, 2011
Personal Inquiry
Prabhus, if you or anyone you know was born anytime between July-September 1948, would you kindly let me know. I hope this meets you well.
Your servant,
Parvati devi dasi

Submitted by Parvati devi dasi, July 1, 2011
Seeking Syama / Salagram das
I am trying to locate a devotee by the name of Syama or Salagram das (Etienne Watson - 32). He was a Los Angeles devotee for years and then moved to Gainesville, Florida and was last known to be in that area.
Please contact me on my cell or have Syama contact me ASAP. Your assistance would be GREATLY appreciated.
Karen Civitate
Karen.Civitate@va.gov

Submitted by Karen Civitate, April 24, 2011
Seeking Krishna Gopal das
I need to contact an older Prabhupada disciple, Krishna Gopal das. E-mail would be nice. Phone is ok. Thanks prabhus.

Your servant,
Parvati devi dasi
Parvati.ACBSP@pamho.net

Submitted by Parvati devi dasi, April 22, 2011
Seeking Sristikarta Prabhu
Hare Krishna dear devotees, I'm Keshavacharya das from Switzerland. I'm looking for a contact address (Email) for Sristikarta Prabhu.
I'm an old friend from his time back at the temple Zurich. I would like to get in contact with him. If somebody could forward this email to him that would be great. I hope he remembers me...
My email is premahara@gmail.com.

Haribol,
Keshavacharya das

Submitted by Keshavacharya das, January 19, 2011

| The Sun | News | Editorials | Features | Sun Blogs | Classifieds | Events | Recipes | PodCasts |

| About | Submit an Article | Contact Us | Advertise | HareKrsna.com |
Copyright 2005, HareKrsna.com. All rights reserved.