Imitating the
Divine Couple

BY: SUN STAFF

Jan 15, CANADA (SUN) — A Sun reader provided an update on the recent article, "Radhanath Bends a Knee with other Disposable Heroes", which reported that Radhanath Swami is listed as a 'high profile student' of Sharon Gannon's on her Wikipedia webpage. He writes:
"However, current visitors to that Wikipedia webpage will not find any reference to Radhanath Swami. A quick look at the history of that Wikipedia webpage will show that the reference to Radhanath Swami was removed on that webpage January 13, 2018 by an anonymous user. The IP address of that anonymous user shows they are from Rajasthan, India."
FULL STORY


How to Broadcast
the Teachings of
Bhagavad Gita

BY: SUN STAFF

Jan 15, CANADA (SUN) — By HDG A.C. Bhaktivedanta Swami Prabhupada, 'Back To Godhead', May 20, 1956, Vol. 03, No. 06.
1. The Personality of Godhead Sree Krishna appears Himself in this mortal world by dint of his Internal Potency in order to be visible to the conditioned souls and specially to human being, although in essence He is eternally unchangeable Supreme Truth and Absolute Lord of the visible and invisible worlds. He is ever existent prior to the creation of the manifested world. The Vedas are known to be transcendental because they were impregnated in the heart of Brahma by Sree Krishna after creation of the universes and as such Vedic knowledge has descended in a transcendental process of aural reception from Sree Brahma to Narada, from Narada to Vyasa, from Vyasa to Sree Sukhdeva Goswami and Sree Sukhdeva Goswami to other disciples by succession. The Vedic knowledge is famous as Sruti because it has descended in the above process of hearing only. But the original Teacher of such knowledge is nobody else than Sree Krishna Himself.
FULL STORY


Constitutional Svarūpa Revival

BY: BHAKTA TORBEN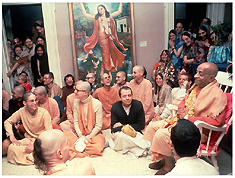 Bhaktivedanta Book Trust
Jan 15, DENMARK (SUN) — Every living being, out of many, many billions and trillions of living beings, has a particular relationship with the Lord eternally
"…Bhagavad-gītā is best understood by a person who has qualities similar to Arjuna's.
That is to say he must be a devotee in a direct relationship with the Lord.
As soon as one becomes a devotee of the Lord, he also has a direct relationship with the Lord.
FULL STORY



BY: SUN STAFF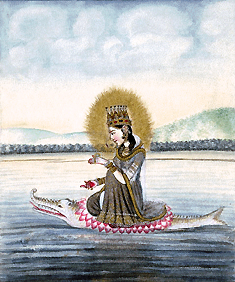 Jan 15, CANADA (SUN) — Ganga Sagara Mela is observed on January 16th.
Gangapujan Dashahara or Dussehra is the "appearance day" or day that marks the descent of Mother Ganges - Ganga Ma". Throughout India this festival lasts ten days beginning on the Amavasya (dark moon night) and going through to the dasami tithi (tenth phase of the Moon, the day before Pandava Nirjal Ekadasi). The Ganga Sagara Mela festival is celebrated at the confluence of the Ganges and the Bay of Bengal.
FULL STORY



BY: SUN STAFF

Jan 13, CANADA (SUN) — By HDG A.C. Bhaktivedanta Swami Prabhupada, 'Back To Godhead', Nov 05, 1956, Vol. 03, No. 11.
"Back to Godhead" is published fortnightly to enlighten modern leaders, religionists, philosophers and the people in general on Rational Theism. It is not blind religious fanaticism neither it is a revolt of an upstart but it is scientific approach to the matter of our eternal necessity in relation with the Absolute Personality of Godhead or the Purushottam. It simply deals with our eternal relation with Him, the process of discharging our relative duties towards Him and thereby to achieve the highest perfection of life attainable in the present human form of existence.
FULL STORY


Radhanath Star
and Ringo Starr

BY: SADHUSANGA DAS

Jan 13, ST. LOUIS, MISSOURI, USA (SUN) — Radhanath Swami with the 'stars'? Yes, I've seen. Once or twice a week I'll turn on the national news to keep up with world events. So last week there was a brief news report on Ringo Starr (the famous drummer for the Beatles), that he was going to be Knighted by the Queen of England. OK. But then I noticed someone standing right next to him on the stage... Radhanath Swami!
FULL STORY



BY: BHAKTA TORBEN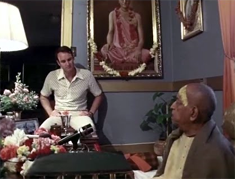 Jan 13, DENMARK (SUN) — 90% they don't fall down - Now, you do whatever you like
"Dr. Mize: The question that bothers me in part is, then, why would the soul... Because I understand your conception that the soul is part of the spiritual sky originally, or part of God, and it somehow falls out of this blissful condition due to pride, much like the Christian thesis that the devil fell out of heaven due to pride. And it seems puzzling why the soul would be so silly, so foolish, so insane, as to do such a thing.
Prabhupāda: That is his independence.
FULL STORY


NBS#78 : Demi-gods - The Powerful Representatives of God

BY: NITYAM BHAGAVATA-SEVAYA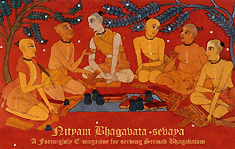 Jan 13, MUMBAI, INDIA (SUN) —
NBS#78 describes: The different demigods like Ganesha and Durga that are mentioned in reference to worship of the Lord's abode and associates are the eternal associates of the Lord in Vaikuntha like Visvaksena and others. Therefore they are not like the Ganesha and Durga of the material world.
FULL STORY


Jai Srila Prabhupada!

BY: SUDARSHAN DASA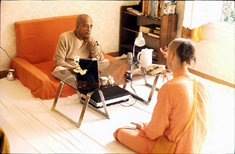 Jan 13, SINGAPORE (SUN) —

"Similarly, a spiritual master who is actually spiritual master, he can know, he knows the pulse-beating of the disciple, and he therefore gives him particular kind of medicine so that he may be cured."

(Srimad Bhagavatam Lecture - June 13, 1969, New Vrindavan)
FULL STORY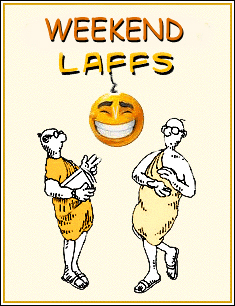 Jan 13, CANADA (SUN) — The Sun's weekly cartoon series.
FULL STORY


Perception of the Earth According to the Three Modes of Nature

BY: MAYESVARA DASA

Jan 11, IRELAND (SUN) —
The Vedic description of the Earth (Bhu-mandala) can be found in chapters 16-26 of Srimad Bhagavatam's fifth canto. The description of Bhu-mandala is that of a massive Earth circle with amazing, fantastic, and colossal features; it is certainly not a description of a small Earth globe floating in space, nor does the description of our own area of the Earth (in Bharata-varsha) in any way conform to such an idea. In this paper we would like to discuss the various possible reactions from devotees to the Srimad Bhagavatam's description of the Earth. We will consider these possible reactions from the perspective of Lord Kapila's analysis of devotional service within the three modes of material nature.
FULL STORY


Nationalism of Pure Consciousness

BY: SUN STAFF

Jan 11, CANADA (SUN) — By HDG A.C. Bhaktivedanta Swami Prabhupada, 'Back To Godhead', Jun 20, 1956, Vol. 03, No. 08
When a man enters into the sitting room of a friend, the friend receives the man with all cordiality and offers him the best couches for his comfortable rest. The friend accepts this friendly welcome and sits along with his host in all security. Does this mean that the man who has entered the house of his friend will consider the sitting room his own property? Certainly he will not think like that unless he has turned to be a mad man. His consciousness of the fact that none of the paraphernalias of the friend's sitting room do belong to him does not disturb him in the least to sit down there tightly and securely and with this pure consciousness of his position, he is allowed equal facility along with his friend who is actually the proprietor of the sitting room.
FULL STORY



BY: BHAKTA TORBEN

Jan 11, DENMARK (SUN) — Suppose a man was very good now he has stolen something still he is a good man?
Srila Prabhupada: So phalena paricīyate. You have to consider the case, suppose a man was very good now he has stolen something still he is a good man? Present consideration is the judgement... There is a Bengali proverb that seven generations before my forefathers used to eat ghee, ghee butter so still I got this smell.
Devotee (1): Hm.
Prabhupada: Seven generations before my forefathers used to eat ghee so therefore that smell is still there in my house. Is that very good argument?"
FULL STORY


Radhanath Bends a Knee with other Disposable Heroes

BY: SUN STAFF

Jan 11, CANADA (SUN) — A Sun reader has called to attention that on the Wiki page for Jivamukti yoga teacher Sharon Gannon, Radhanath Swami is listed as one of her "high profile students".
This designation puts him (and ISKCON) in the company of her other star- and starlet-students, which include Madonna, rocker Joan Jett, fashionista Donna Karan, and musician Michael Franti of the rock band, 'The Disposable Heroes of Hiphoprisy'. With a slight spelling alteration, that sounds like a band the Swami should join. In his free time after mundane yoga lessons, of course.
FULL STORY